Members, organs and structures of Kindernothilfe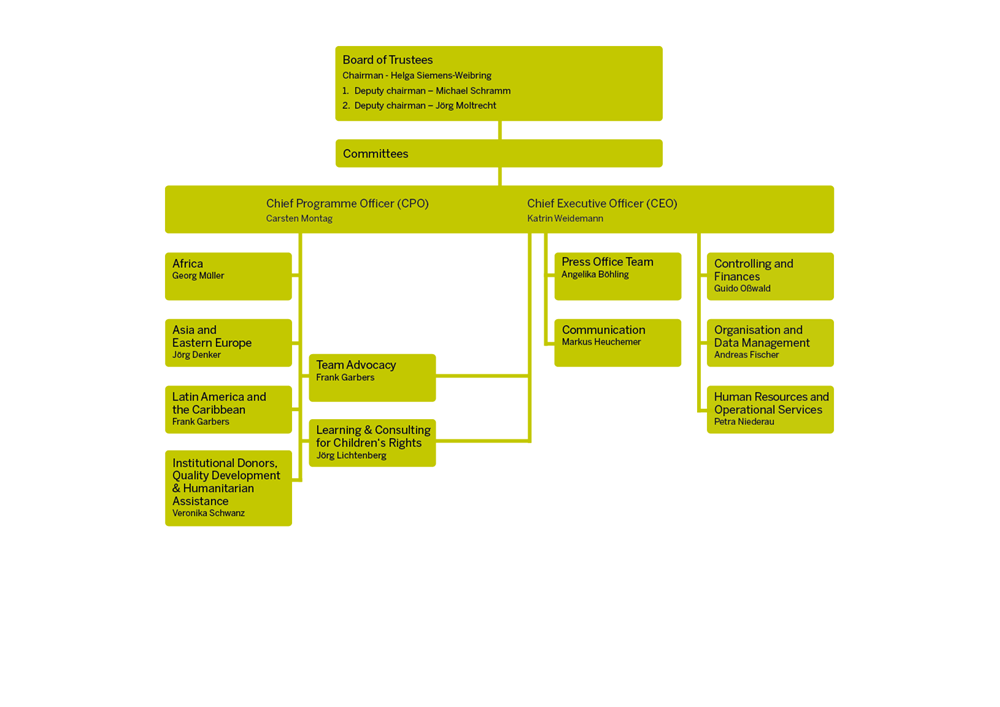 As of 31 December 2021, Kindernothilfe employed 186 staff, the equivalent of 153 full-time positions with the following areas of responsibility: project work, 51 positions; education, information and advocacy work, 21 positions; advertising, donor service and Kindernothilfe-foundation, 35 positions and administration (incl. Executive Board and trainees), 46 positions.
The governing bodies of the non-profit organisation Kindernothilfe e.V. are the Annual General Assembly, Board of Trustees and Executive Board.
Annual General Assembly
The Annual General Assembly convenes once a year. Its responsibilities include receiving the reports of the Executive Board and the Board of Trustees, approving the activities of both bodies, reviewing the annual financial statement and electing the Board of Trustees.
Board of Trustees
The Board of Trustees appoints the Executive Board and can dismiss it, monitors the work of the Executive Board, and appoints committees to advise the Board of Trustees and the Executive Board.
Members:
Christel Riemann-Hanewinckel, pastor, former Parliamentary Secretary and former Member of Parliament, Chairperson of the Board of Trustees, Halle/Saale
Prof. Dr. Irene Dittrich, Professor at the Düsseldorf University of Applied Sciences, 1st Deputy Chairperson, Düsseldorf
Michael Schramm, Member of the Executive Board of the western region of the Commerzbank AG, 2nd Deputy Chairperson, Cologne
Dr. Hans-Tjabert Conring, Church Councillor of the Evangelical Church in Westphalia, Bielefeld
Meike Dudde, Lecturer and trainer for children's rights, communication and mediation, Berlin
Horst Krapohl, Consultant (retired), Berlin Frauke Laaser, Pastor and Church Councilor of the Evangelical Church in the Rhineland, Moers (appointed member, from May 7, 2022)
Hans Leyendecker, Journalist, Leichlingen
Anika May, Consultant Civil Peace Service, Arbeitsgemeinschaft für Entwicklungshilfe e.V. (AGEH), Cologne
Jörg Moltrecht, Member of the Executive Board of Bank für Kirche und Diakonie eG - KD-Bank, Dortmund
Prof. Dr. Mark Oelmann, Professor of Water and Energy Economics at Ruhr West University of Applied Sciences, Mülheim a. d. R.
Elke Rusteberg, Freelance consultant for project development and evaluation, Berlin Dr. Bärbel Schwitzgebel, Deputy Head of RhineMain University and State Library, Wiesbaden
Helga Siemens-Weibring, Social Policy Officer of Diakonie RWL, Diakonisches Werk Rheinland-Westfalen-Lippe e.V., Düsseldorf
Friederike von Kirchbach, Pastor, Berlin (mandate suspended)
Jürgen Weerth, Former German Embassador in Sri Lanka (retired), Kaarst (appointed member)
Executive Board
The Executive Board is responsible for managing the association's operations.
Members:
Katrin Weidemann, Chief Executive Officer (CEO)
Carsten Montag, Chief Programme Officer (CPO)
Jürgen Borchardt, Chief Financial Officer (CFO)